The plight of an artist is to constantly question your abilities. Having talent means having a unique skill set that isn't common, and that can be scary to pursue. But having children forces you to step out of your comfort zone to set an example of what it looks like to push yourself and follow your dreams. There's no time like the present to take action — especially because this Character Drawing and Design Course Bundle from Pencil Kings in on sale for 80% off for a limited time.
Feeling insecure about pursuing a hobby as a full-time career is totally normal, and the support from Marvel and DreamWorks artists offered in this bundle's courses can give you the confidence you need. You'll get access to to introductory through advanced courses to build upon whatever level of skill you're starting at.
The Pencil Kings Ultimate Character Drawing and Design Course Bundle covers everything from drawing to painting with specific focuses like Wild West Character Design and Painting a Pinup in Photoshop. If you're looking to start with more broad strokes (no pun intended), you'll enjoy the Gesture Drawing and Figure Drawing courses.
One happy graduate from the course bundle gave it a five-star rating and noted, "The bundle was a great discount." Another happy customer liked that the bundle includes "loads of content! Basically a buffet of the subject matter. It's enough to tighten up your skill in anatomy, gesture drawing, shading, etc." You might even want to consider sharing the course with your kids, as one user got the course for their 11-year-old granddaughter.
Build your skills and confidence in drawing, anatomy, painting, and more while the Pencil Kings Ultimate Character Drawing and Design Course Bundle is discounting the 12-course package by 80% at just $34.99 for a limited time.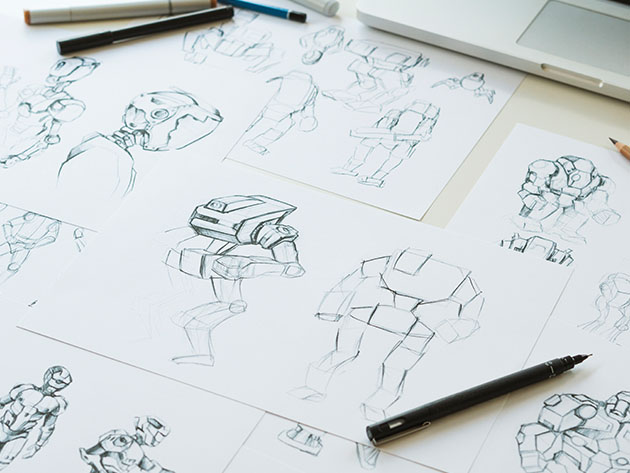 Pencil Kings Ultimate Character Drawing & Design Course Bundle – $34.99

See Deal
Prices subject to change.
Byline: Violet Shepard
Please Share On Facebook/Pinterest Drawing Lessons From DreamWorks And Marvel Artists Are 80% Off Clicky News LittleThings.