Blood is thicker than water — and here's one sister who couldn't agree more. Ashley Schaus has always been incredibly close to her little sister, Hannah.
Due to Hannah's Down syndrome and affliction with diabetes, their bond is even stronger. For Ashley, there was never a doubt and it was never a negotiable matter: her and her beloved sister were a 'package deal'.
This applied even as Ashley prepared to tie the knot with her sweetheart, William Seaton. And as it would turn out, William was more than happy to take his sweet sister-in-law under his wing, too.
Ashley loves her little sister with all her heart.
"She has Down syndrome and diabetes, and I look after her and protect her," Ashley told Fox News.
Due to Hannah's condition, she is unable to look after herself — and that will most likely always be the case.

"She'll never be able to live alone," she told the Washington Post. "When my parents get older and can't care for Hannah, she'll be under my care."
When came the time that Ashley's boyfriend, William, wanted to propose, he thus realized he had two very special proposals to make.
The first, of course, was for his beloved Ashely. The second would be a very unique proposal for Hannah.

William got on one knee — and asked Hannah if she would be his sister and best friend forever.
"It was the sweetest moment in my whole life watching Hannah be so happy and feeling so special," Ashley told Fox News. "Then he got down on one knee and asked me to be his wife."
The trio celebrated together, feeling blessed to all have one another by their sides.

"[William and Hannah] will make promises to each other to always care for one another, share secrets, make jokes and go fishing, as that's one of their favorite things to do.
Will and I will share our vows and then all three will walk down the aisle together," Ashley explained.
Indeed, when came the time to plan the wedding, the lovely couple wanted to make sure to include Hannah, too.
So, William stayed true to his word and engaged in a tear-jerking vow exchange with his sister-in-law.

"Hannah, I'm thankful you're my sister and my best friend," he said. "You're one in a million. I promise to always take you fishing, tell you plenty of funny jokes, and most importantly, I promise to always look out for you and take care of you as a big brother."
"[Hannah] was on the verge of crying, I had to help her read [her vows] but it was very emotional," Ashley later told Inside Edition.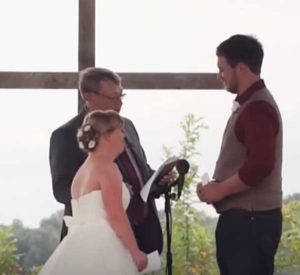 Hannah even got to wear a white dress and partook in a 'first dance' with her new brother. To the guests' great delight, they sweetly danced along to Michael Buble's "You've Got a Friend in Me".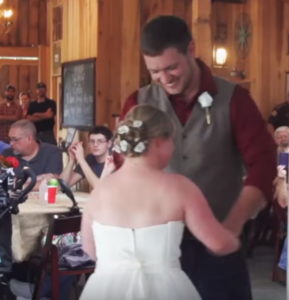 A touching video capturing the sweet couple's willingness to include Hannah in their love has since understandably gone viral. See it below.
Such a sweet gesture! What a wonderful couple who really understand what matters most in life: family and love. Share their lovely story if it melted your heart, too.