Tap Into Your Inner Artist With This Creative Arts Bundle
|
Halloween costume planning can do one of two things to a parent: inspire you by igniting a previously underestimated skill for crafting, or demean you by highlighting a need for some serious lessons in arts and crafts. Either way, you can explore your newfound talent or work on improving your artistic abilities with the Ultimate Creative Arts Bundle. It's packed with six courses to teach beginners and experienced artists alike to paint and draw across a number of skill levels and mediums.
If you're part of the group whose abstract art can be confused with your preschooler's crafts, the included How to Paint from Beginner to Master course will help distinguish you as the adult artist in the house. You'll learn how to mix a 10-value grayscale, shade, and even the supplies you need and how to care for them.
Once you've got a handle on the basics, or perhaps you're the parent jumping in with a newfound skill and passion for art, you'll have the opportunity to master drawing, underpainting, green scale, and more in the Still Life Painting course. It includes comprehensive instruction through 18 lessons in painting with oil paint, covering everything from mixing your colors to brush stroke techniques. The How to Paint a Skiing Landscape with Watercolor is perhaps the shining star of the bundle with an impressive five-star rating from satisfied users.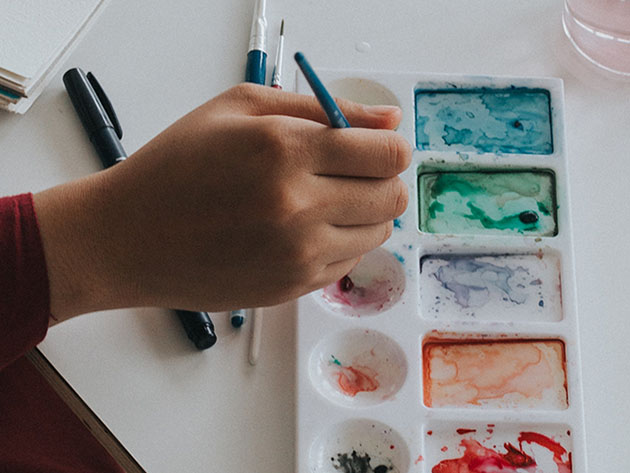 The Ultimate Creative Arts Bundle has all art mediums covered to make you the ultimate well-rounded artist. The How to Draw from Beginner to Master course will have you drawing and shading in no time with techniques made famous by Leonardo Da Vinci, Rebrandt Van Rijn, and William Adolphe Bouguereau. 
And ultimately, the Ultimate Creative Arts Bundle will have you painting and drawing like a pro with six courses and 133 lessons. Get the entire bundle at an impressive 97% discount while the bundle is $34.99 for a limited time.
The Ultimate Creative Arts Bundle: Learn to Paint & Draw – $34.99

See Deal
Prices subject to change.
Byline: Violet Shepard
Please Share On Facebook/Pinterest Tap Into Your Inner Artist With This Creative Arts Bundle Clicky News LittleThings.