Weekdays and weekends alike are taking a bigger toll on your body than ever; the kids are always home since there's no school or extracurriculars, and you're working amidst it all in a makeshift home office. Squeeze little bits of relief into your day with quick and relaxing foot massages. Carve out breaks or be sneaky while you're on a Zoom call, but act fast because the Foot Vibe Deluxe Massaging Footrest is only discounted for a limited time.
The Foot Vibe sits idle as a typical footrest until you're ready to activate its healing power. Select one of the 20-speed vibrating options or nine massage programs to tackle your feet and calves for a complete massage that will rejuvenate those feet. You'll be delighted by the vibrating bar that reaches toes and arches for a deeper, more calming experience.
Your feet take the brunt of a lot of stress. You stand on them endlessly while you clean, cook, and shop for the family. They get stubbed and lacerated by LEGOs, and they might even get the occasional squish during a sweet, but very painful waltz while your child stands on your toes. Foot Vibe includes a rubberized foot platform with a subtle textured pattern and raised areas that give a muscle-penetrating massage, so you can get back out there and do the toe-waltz again tomorrow without cringing.
If you're no stranger to the positive effects of massage, it'll be a great socially-distant substitute for visiting the spa.
The Foot Vibe Deluxe Massaging Footrest has an open design to fit all foot and leg sizes, and a sale to conveniently fit most budgets. For a limited time, get the relaxing relief from daily foot and calf massages while the Foot Vibe is on sale for just $149.99 (regularly $165).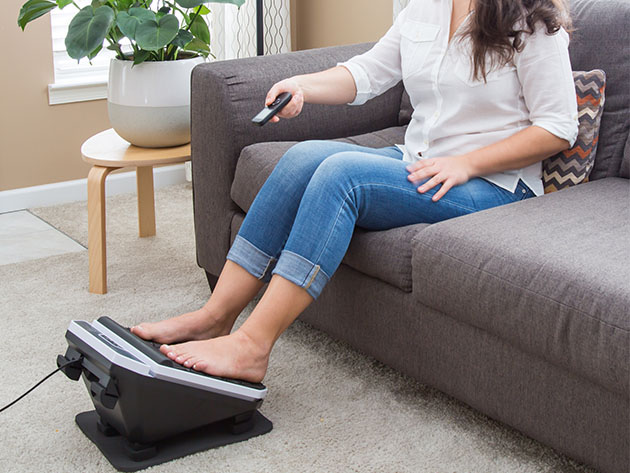 Foot Vibe Deluxe Massaging Footrest – $149.99

See Deal
Prices subject to change.
Byline: Violet Shepard
Please Share On Facebook/Pinterest Carve Out A Little Time For Yourself With The Foot Vibe Clicky News LittleThings.